Sushi Salad || Nori Sushi Ball || Roasted Nori || Kombu Recipes || Dulse
Dulse is a versatile sea vegetable which lends a unique, intense taste when added to a wide variety of dishes.

Many people enjoy chewing dried dulse as it is a very salty snack. Indeed, many dulse lovers have told us that their bodies seem to crave dulse, and they just eat it straight from the bag while working, from artists in their studios to academicians at their desks, like my cousin Sue.

Dried dulse snipped with scissors into tiny pieces becomes a salty condiment which may be used to season anything.

Dulse adds a unique flavor accent which perfectly complements potatoes, eggs, vegetables, rice, casseroles, and chowders.

Dulse and potatoes are made for each other! Snip dulse with scissors and sprinkle on baked boiled, mashed, or fired potatoes.

Dulse is great sprinkled on salads, pizza (like anchovies), on or in omelettes or scrambled eggs (like bacon).

As you become familiar with the taste qualities of dulse, try it on rice dishes, casseroles, vegetable dishes, and in chowders.

Because dulse is so delicate and fragile in texture, it becomes mushy when cooked. We prefer to use dulse raw, sprinkled as flakes on cooked food; or steamed for a moment, or cooked in scrambled eggs and omelettes.

Barbara has been tossing dulse in a little bit of butter in the frying and serving the crisp dulse on the side with eggs or as a 'dulse, tomatoe & lettuce sandwich.

For yummy baked beans replace the pork with 1/2 c. dulse and 1/2 c. of olive oil.
Soaked, dulse softens gradually and becomes less salty. It may then be added to salads and sandwiches. (See the recipe for Dulse, Bagel and Cream Cheese in the book section on sandwiches).

In a soup, stew or chowder, dulse softens quickly and gradually dissolves. (See the recipe for Dulse Chowder in the book section on soups).

Barbara was just chatting with Joe Everet a Grand Manan dulse harvesters and he said his family has always put the dulse in a cheese cloth sac and put that in their fish chowder for flavor and removed the sac it when it was finished cooking.
Dulse makes an excellent tempura. (Use the recipe for Navarro Oysters in the Nori Recipes book section substituting dulse for nori.
---

Sushi Salad
Sushi Salad || Nori Sushi Ball || Roasted Nori || Kombu Recipes || Dulse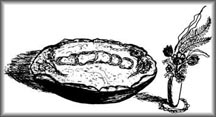 One of our most popular recipes. I never met (well, hardly ever) anyone who didn't love it! It's delicious, simple, and beautiful. Very sensual in the making.


INGREDIENTS
H-1 cup flaked roasted nori
2 t roasted sesame oil
8 cups cooked rice, cooled
1 t grated or crushed ginger
3 T diced raw onions (green onion preferably)
1 T sesame seeds (optional)
1 T honey
1 t rice wine or vinegar
4 T soy sauce (or to taste)
4-6 cloves garlic, crushed
parsley and/or cilantro
diced red and green bell peppers, and/or grated zucchini

Combine the above ingredients, adding roasted nori and parsley last, reserving 1/8 cup nori and 1/4 cup parsley and/or cilantro for garnish. Adjust ingredients to taste until it is perfect! Serving sushi salad on a bed of lettuce, garnished with slices of red and green bell peppers, makes this a work of art. It has been prepared this way for a Senior Center fundraiser by Chef Stephen Yundt, using wild rice, and even the cowboys loved it! (Note: Sushi salad was Eleanor's favorite dish to take to potlucks. She was always trying to turn natural food delis onto this hearty, nutritious dish.) (Serves 8)

Using the above recipe, form rice balls one inch in diameter. Roll the rice balls in crumbled roasted nori, and serve on a platter garnished with parsley.


Roasted Nori Over Rice

Cook rice until done. Sprinkle crumbled roasted nori over the rice. Add any combination of the following: soy sauce, hot sauce, miso, tofu, tomatoes, scallions, avocado, roasted sesame oil, parsley.

Sushi Salad || Nori Sushi Ball || Roasted Nori || Kombu Recipes || Dulse