This beautiful book is out of print. We are writing another cookbook with new stories, new nutritional information &amp loads of wonderful recipes. We will keep you posted, or email us &amp ask how it's going
Sea Vegetable and Wildcrafter's Guide
Book Table of Contents
Soft cover 128 pages 8.5X11" $19.95 ISBN 0-9647643-7-7
Indexed, with Bibliography Illustrated with line drawings
Perfect bound, Printed on acid free, recycled paper
Open the door of delight into the awesome world of sea vegetables! John Lewallen and his late wife Eleanor share their first fifteen years of harvesting, cooking, living with and protecting wild sea vegetables into this beautiful, informative volume. Here are the book's main sections:
I. Sea Vegetable Gourmet Cookbook: The best recipes and cooking ideas from Eleanor's fifteen years with sea vegetables, with the latest nutritional information about each species.
II.Wonders of Seaweed: Bathing and External healing: Eleanor's experience and experiments with feather boa, kombu, turkish towel, Fucus, and other seaweeds.
III.Sea Vegetable Wildcrafter's Guide:Complete harvesting instructions for Pacific and Atlantic sea vegetables, with entertaining wildcrafting history, folklore, and tales.
IV.A healing food for our Era: John's essays, covering Aboriginal Native American sea vegetable use, a thumbnail history, sea vegetables and macrobiotics, radiation and heavy metal cleansing, trace elements, balanced salts, and more.
V.Family Life in the Tidepool: Eleanor's essays about life as a mother, sea vegetable harvester, and ocean protection activist.
Send now for your copy of this classic in the annals of sea vegetable awareness! We guarantee that you will be completely satisfied with the book. If not, you can return it to us at any time for a complete refund, no questions asked.
Sea Vegetable Gourmet Cookbook and Wildcrafter's Guide - Ordering Information
Sea Vegetable Gourmet CookBook and WildCrafter's Guide $19.95
California residents please add sales tax (7.25%) 1.45 per Book
SHIPPING/handling cost $2 per book and $1.00 each additional book.
PRIORITY MAIL (Optional): shipping/handling $3.00 for one book and $1.00 each additional book.
Please send check or money order with your order. To pay with credit card please print our price list and mail or fax to:

The Mendocino Sea Vegetable Company

PO Box 455, Philo

CA 95466




Fax 707-895-3270
Mail Order Sea Vegetables
The Mendocino Sea Vegetable Company mail orders a complete line of packaged and bulk sea vegetables to individuals and retailers throughout the world. Our sea vegetables have earned a national reputation for the highest quality appearance, taste, and purity. Most of the sea vegetables featured in this book are available through our company.
Call, e-mail or write us for our mail order product and price list. we will be happy to send sea vegetables directly to you.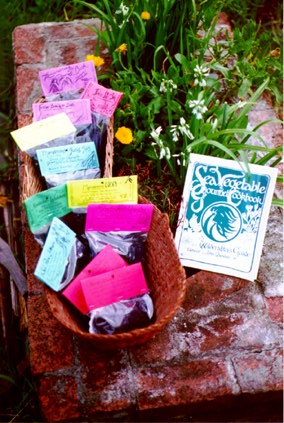 Terms: payment with order. Call us or E-Mail .